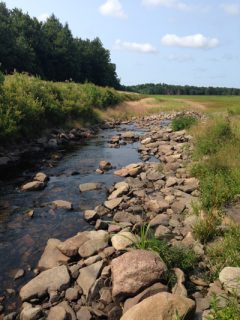 Today, the William Penn Foundation announced more than $40 million in new funding for the Delaware River Watershed Initiative (DRWI), which stands among the country's largest non-regulatory conservation efforts to protect and restore clean water. The DRWI is a collaborative effort involving 65 non-governmental organizations working together to protect and restore clean water in the Delaware River watershed, the source of drinking water for 15 million people in Pennsylvania, New York, New Jersey and Delaware.
Leadership by public agencies and NGOs at the state and local levels is critical to continuing the momentum of environmental gains achieved over the past several decades. Exemplifying this leadership is Wildlands Conservancy, a regional land trust that forwarded the permanent protection of 500 acres in Lehigh River headwaters.
The wooded property in Pennsylvania, known locally as "Klondike," straddles Clifton Township, Lackawanna County and Sterling and Lehigh Townships, and Wayne County. It contains several miles of the Lehigh River, the second largest tributary to the Delaware River, and more than 200 acres of special wetlands. These wetlands and forests help purify the surface and groundwater feeding into the headwaters of the Upper Lehigh River, which support drinking water for 180,000 residents and have Pennsylvania's highest ranking for water quality.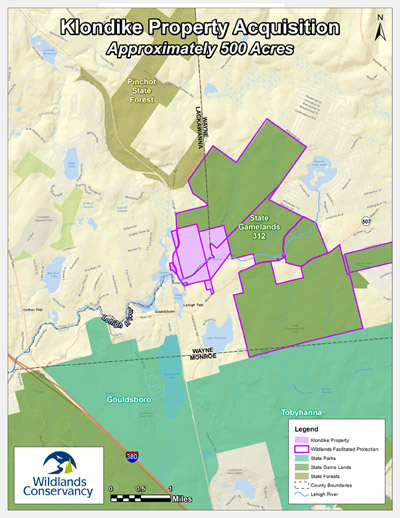 William Penn Foundation funds supported Wildlands' investing in the property, adding 500 acres to the 3,900-acre State Game Lands 312 (see map, at right), which Wildlands and partners protected in 1991.
"The Klondike has long been the highest rated property for preservation in the upper Lehigh River watershed. It cradles the slim, blue ribbon that swells to become our mighty Lehigh—the same water hundreds of thousands use for drinking, recreation, fishing and boating," says Christopher Kocher, president of Wildlands Conservancy. "This property will provide many benefits, including clean, abundant water, high quality natural habitat and recreational lands for generations to come."
Wildlands has a target to protect an additional 5,000 acres in this geography in the next three to six years in collaboration with its partners: Audubon Pennsylvania, Natural Lands, North Branch Land Trust, North Pocono Care, The Nature Conservancy and Pocono Heritage Land Trust—and with support from the William Penn Foundation.