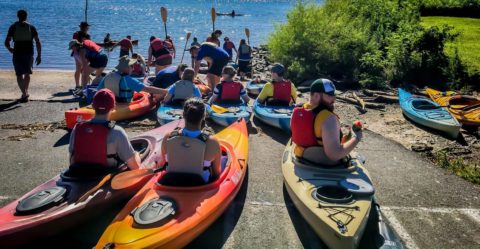 Bridesburg Riverways – A Swimmable River 
We invite you to travel back in time to the Bridesburg of yesteryear.  "Bridesburg River Ways" is a new story series from Riverfront North Partnership and artist Aislinn Pentecost-Farren about Bridesburg and its life along the river.  In this episode, we speak with Pat McGrath. Pat is an avid boater from the Bridesburg Outboard Club and grew up in the neighborhood, swimming in the Delaware River when it was thick with pollution.  
Riverfront North Partnershipworks with the City of Philadelphia to build and activate an 11-mile greenway on the industrial north Delaware River.  In anticipation of a new 10-acre riverfront parkin Bridesburg, we are working closely with the communityto welcome them back to their river.  We have created a resident committee to join us on discovery trips to other urban river parks, a mini-grant program for local leaders, and community art projects. It's been an ongoing process; a human-centered approach aimed at listening and having fun with each other.
Our first step in the process was to understand more about the community.  The Bridesburg neighborhood has been a Philadelphia River Ward neighborhood without public access since a pier at Bridge Street was closed many decades ago.  It was built on the heavy industries of chemical manufacturing, coal and tanneries, inevitably contributing to the polluted conditions that existed along the Delaware for most of the 20thcentury.  It's also a neighborhood filled with a rich history along the river and tight community bonds. 
Fast forward to 2020 with a transformed, healthier waterway, as the Delaware River is named "River of the Year." Pat has marveled at the changes he's seen in his lifetime; a dramatic comeback where fish and wildlife has returned in tremendous numbers.  He too, along with all of us who have worked so hard on the river's behalf look forward to the Delaware River becoming truly swimmable in days to come.  
To learn more about Riverfront North Partnership, our 11-mile greenway and our stewardship and programmatic efforts, please visit:  www.RiverfrontNorth.org or follow us on social media. 
by: Gina Craigo – Community Engagement Manager, Riverfront North Partnership