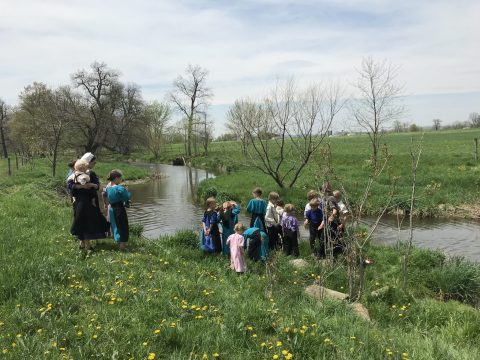 A one-room schoolhouse in Honey Brook Township—located between a small stream and Amish farms— is a fitting place to nurture the next generation of stewards and learn about the role fish and farming are playing in local efforts to protect clean water.
Brandywine Conservancy, Brandywine Red Clay Alliance and Stroud Water Research Center staff spent an afternoon working with the school children—whose parents are Amish farmers—to stock trout in that section of the upper Brandywine River. As the children laughed and played on the way to the stream with trout-filled buckets in tow, they learned about how trout breathe through the water, how trout don't like it when water is dirty, and how trees keep the water clean and cool and help to feed the trout.
These lessons were on display thanks in great part to neighboring Amish dairy farmers who had fenced their cows out of the stream and planted trees along the streambank. Fencing and tree planting make the stream healthier for fish, and protect clean drinking water. At the end of the day, each child understood a bit more about ecology, and took home a sapling to plant.
The day stocking trout and working with Honey Brook school children was just one small piece of a much larger effort to restore the health of the Brandywine River. Local nonprofits working with the Delaware River Watershed Initiative are protecting natural areas, helping farmers adopt river-friendly practices, and supporting municipalities in protecting water resources.
The Delaware River Watershed Initiative is among the country's largest non-governmental conservation efforts to protect and restore clean water—a first-of-its-kind collaboration involving 65 NGOs working together to protect and restore the Delaware River and its tributaries, which provide drinking water for 15 million people in Pennsylvania, New York, New Jersey and Delaware.
Already, in the Brandywine Christina basin, communities have used easements to preserve 19 farms that span 1,243 acres. Additionally, nonprofit staff and volunteers have installed nearly eight miles of stream bank fencing and planted more than 19,000 trees along 12 miles of streams, creating more than 123 acres of stream-side buffers. The partners have helped six municipalities to adopt streamside (or riparian) buffer ordinances to preserve the trees that act as natural water filters for runoff from roads, roofs and fields.
As part of the Delaware River Watershed Initiative, Brandywine-Christina partners are expanding their geographic focus and stepping up assistance with local municipalities for clean water protections. It's an ideal place to make a big impact on clean water: the Brandywine River, together with the Red and White Clay creeks, provides over 100 million gallons of drinking water a day to over 500,000 residents.