500 acres is a lot of land to protect, and when it's headwaters land where a river begins, ripple effects can be felt for many miles downstream.
That's why Wildlands Conservancy jumped at the chance to purchase the Klondike property at the headwaters of the Lehigh River, hustling to raise the $2.5 million dollar purchase price from a variety of sources over the past four years.
Thanks to the patience of the owners, Tighe and Neil Scott, the parcel's miles of river, forests and wetlands will now be open to the public, while naturally keeping the Lehigh flowing cleaner downstream.
The couple was considering a subdivision development, but then realized how valuable the land would be for the long-term sustainability of the region. They paused their development plans while Wildlands Conservancy raised the funds for purchase.
The Lehigh River is important as a drinking water source, and also a beloved destination for fishing and boating by thousands of families. Preserving its headwaters in Lackawanna and Wayne counties will ensure that the river flows clean for future generations. The Klondike property is also important for local wildlife, providing important habitat for deer and other critters.
"The Klondike property has long been the highest rated property for preservation in the upper Lehigh River watershed. The beauty of this natural place makes a strong case for its protection. It cradles the slim, blue ribbon that swells to become our mighty Lehigh – the same water hundreds of thousands use for drinking, recreation, fishing and boating," said Christopher Kocher, president of Wildlands. "This property will provide many benefits, including clean, abundant water, high quality natural habitat and recreational lands for generations to come."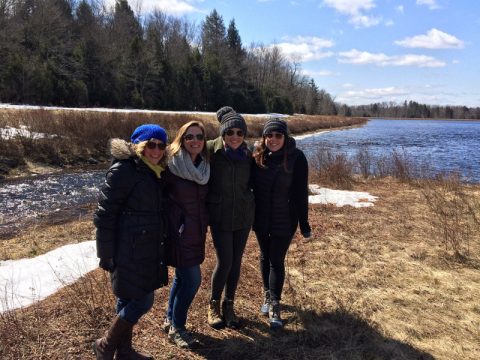 The Klondike property now belongs to the Pennsylvania Game Commission and is part of the 3,900-acre State Game Lands 312, which is open to the public for hunting, fishing and exploring. The purchase price was partly underwritten with funds from the Delaware River Watershed Initiative, combined with state and private funds. Wildlands Conservancy and its partner organizations are now aiming to protect an additional 5,000 acres near the Klondike property in the next six years.
"It's all there with the Klondike tract acquisition: increased protection of the Lehigh River, its adjoining wetlands, and the diverse natural world both support," Pennsylvania Department of Conservation and Natural Resources Secretary Cindy Adams Dunn said. "All coupled with public access to more than 500 acres and miles of river."
This work is part of a regional clean water initiative dubbed the Delaware River Watershed Initiative. The Delaware River Watershed Initiative is among the country's largest non-governmental conservation efforts to protect and restore clean water—a first-of-its-kind collaboration involving 65 non-governmental organizations working together to protect and restore the Delaware River and its tributaries, which provide drinking water for 15 million people in Pennsylvania, New York, New Jersey and Delaware.