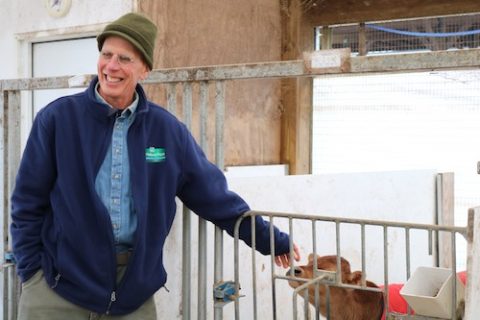 (Photo: Senior Ecologist Larry Lloyd of Berks Nature at the Martin Farm, 2018, Resource Media)
In Berks County, PA, Mennonite farmers are making a difference in water quality, while maintaining their multi-generational farming heritage. Throughout the Saucony Creek watershed, family farms are ensuring that the water that flows off their farms is cleaner, and thus that the county's creeks and drinking water are healthier for everyone.
Touring some of these farms with the irrepressible Larry Lloyd, Senior Ecologist with Berks Nature, means seeing solutions – and relationships – everywhere. At the historic farm of Paul and Anna-Mae Martin we were treated to a deep dive into agriculture best management practices, or BMP's. The Martins in particular make sure that their cattle manure stays put, instead of running into the creek with rain and snowmelt. Using liquid manure storage and special water catchment systems, the Martins continue their traditional farming practices with a conservation focus.
As a longtime farming family in the area, the Martins have also inspired relatives and friends on many surrounding farms to embrace BMP's. They have also championed the practice of selling conservation easements, a practice that can both generate cash payments for farmers and ensure that their land will always be used for farming or open space. The Martins have also embraced cover crop farming, which prevents soil erosion and increases the land's fertility.
As Tami Shimp, VP of Development and Community Relations, of Berks Nature noted, improving water quality is ultimately all about relationships. When they're strong, farmers up and down a creek learn and inspire each other. When more farmers use these best practices, more of the creek is protected and the impact of that protection is exponential. Along the Saucony, Shimp says, the stars aligned and almost all of the creek in Berks County is now protected.
Meeting the Martins showed us the deep love they have for their land and their community, and the results of their choices are showing up in some very concrete scientific data as well. Water sampling shows a steady and marked decreased in nitrates (a key marker of agricultural pollution) in the Kutztown municipal drinking water supply (data geeks: check out this very impressive graph). That means lower treatment costs for residents, better health for everyone, and more gratitude to the Martins and farmers like them.