The Delaware Highlands Conservancy is pleased to announce that 3,683 acres of forestland have now been permanently protected in Pike County, PA. Three hunt clubs—Mink Pond Club, Maskenozha Rod & Gun Club, and Lehman Lake Rod and Gun Club—together form "The Northeast Connection": thousands of connected acres of forests, lakes, and wetlands along the Little Bushkill Creek.
The project will connect two large protected landscapes, creating a nearly 4-mile natural corridor between the Delaware State forest and the Delaware Water Gap National Recreation Area, and will conserve over ten miles of clean and free-flowing headwater streams. The protected forests flank the Delaware River and Kittatinny Ridge, both essential for migration and movement of wildlife species, and will provide habitats critical for supporting species as the climate changes.
The protected forests of the Northeast Connection will protect clean air and drinking water locally and for millions of people downstream and will provide recreational opportunities for outdoor enthusiasts for generations to come.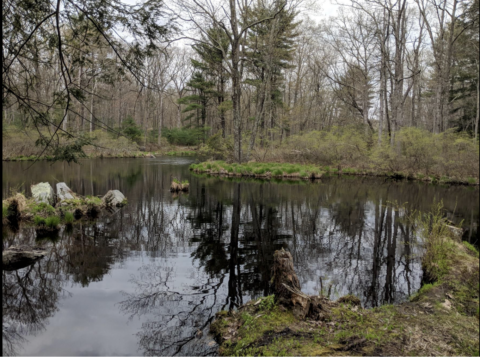 The Land and Water Conservation Fund of the U.S. Forest Service's Forest Legacy Program allocated $3.33 million, and philanthropy contributed another $1.11 million, toward the project to permanently protect these three properties. The Northeast Connection project was supported through the Open Space Institute's Delaware River Watershed Protection Fund, made possible by the William Penn Foundation and its Delaware River Watershed Initiative, which works to protect water quality in the Delaware River Basin. The project was additionally supported through the Open Space Institute's Resilient Landscapes Initiative, which is made possible with funding from the Doris Duke Charitable Foundation. Funding support was also provided by the Pike County Scenic Rural Character Preservation Program.
Founded in 1994, the Delaware Highlands Conservancy is a nationally accredited land trust that has protected more than 18,000 acres of clean waters, wildlife habitat, and working farms and forests in the Upper Delaware River Region. In addition, the Conservancy offers diverse educational programming and encourages responsible land stewardship throughout the region. To learn more about the Conservancy, please visit DelawareHighlands.org.