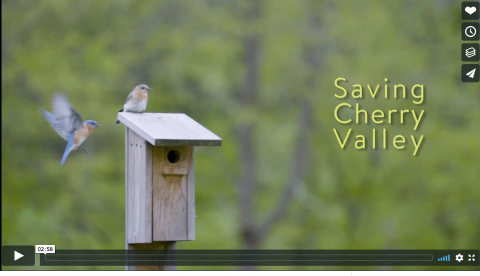 The Delaware River spans some 300 miles and meanders through 42 counties in five mid-Atlantic states. Yet one of the most effective methods for protecting the mighty river happens right at its source: namely, the safeguarding of forests that filter water for its headwater streams.
Now, a new short film celebrates the achievements of forests — and the people and animals who depend on them. Saving Cherry Valley (see the trailer here; or watch the three-minute film here), commemorates the historic addition of 4,300 acres to Cherry Valley National Wildlife Refuge, located at the river's headwaters in the Poconos.
First created in 2008, the Refuge has now roughly nearly doubled in size, thanks to the support of many dedicated land conservation partners and the public. This extensive new acreage was protected after ten years of effort by The Conservation Fund (TCF), and with the support of the Open Space Institute (OSI). Other partners include the U.S. Fish and Wildlife Service, the National Park Service, the Pennsylvania Department of Conservation and Natural Resources, Pennsylvania American Water, the National Fish & Wildlife Foundation, and the Land and Water Conservation Fund. It is a dramatic victory for the Delaware River and the Refuge, not to mention North America's smallest turtle, the bog turtle. The migratory birds that depend on the land have also benefitted from the conservation effort.
Produced by OSI with support of the William Penn Foundation and its Delaware River Watershed Initiative, Saving Cherry Valley captures the enthusiasm and commitment of Cherry Valley National Wildlife Refuge manager Mike Horne and other conservationists as this hard-won property is protected forever for the Delaware River — and the 15 million people who depend on it for drinking water.