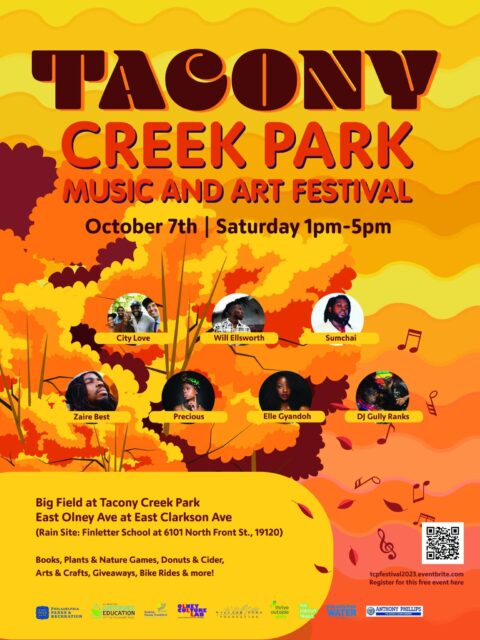 Tookany/Tacony-Frankford Watershed Partnership and Olney Culture Lab of CultureTrust Greater Philadelphia are happy to present the 3rd edition of the freshly dubbed Tacony Creek Park Music & Arts Festival!
We are bringing the FREE Festival back on Saturday, October 7, 2023 from 1 pm – 5 pm at the Big Field in Tacony Creek Park. The Big Field is located on East Olney Avenue between Rising Sun Avenue and Tabor Road.
Enjoy musical performances from DJ Gully Ranks, City Love, Will Ellsworth, Sumchai, Zaire Best, Precious & Elle Gyandoh. Arts & crafts, nature games, bike rides, books and plants, giveaways, and donuts and cider will be provided to ring in the fall! In case of inclement weather, the event will be relocated to Finletter School at 6101 North Front St, 19120.