September has us looking toward October 8, National Thrive Outside Day, which this year features many awesome outdoor opportunities with DRWI partners and friends in Greater Philadelphia.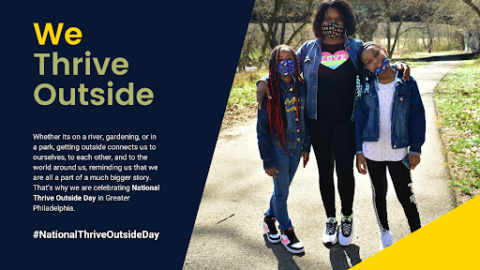 The goal? Create a more inclusive and accessible outdoor experiences for all through the Thrive Outside Initiative, a community-led program built with trusted local and national partners. Thrive Outside Greater Philadelphia brings together several regional organizations, stakeholders and existing large-scale networks, — the Circuit Trails, Alliance for Watershed Education, Coalition for the Delaware River Watershed, Delaware River Watershed Conservation Collaborative, and Delaware River Watershed Initiative — to collectively create pathways for equitable access to the outdoors. We hope to break down the barriers for communities to enjoy their parks, waterways, and outdoors, while breaking down the barriers between our strong networks in the Delaware River watershed. 
Thrive Outside Day is based on the shared understanding that all people should have the opportunity to have positive experiences outdoors, regardless of where they live or their social or economic status, but that's often not the case because of structural barriers. 
Young people especially deserve opportunities to learn in, thrive in and appreciate the outdoors, so they can become informed and engaged champions for our natural resources. And we know that time spent in nature positively contributes to human well being, providing a respite from the stress of modern life. The truth is that when we make outdoor experiences accessible to everyone, everywhere, we build stronger connections and communities. 
The Thrive Outside Initiative is focused on reversing the declining trend of outdoor engagement by working at the grassroots level, empowering communities to make outdoor recreation an accessible lifestyle for all. The Initiative awards multi-year, capacity-building grants to diverse communities to build and strengthen networks focused on providing children and families with repeat and reinforcing experiences in the outdoors.
Outdoor youth programming and public-private partnerships such as the Thrive Outside Initiative are helping to address equity barriers to the outdoors here at home in Greater Philly and across the country. The Outdoor Foundation is working through strategic investments to move the needle on barriers such as safety, walkability, transportation, cost and cultural inclusion. So whether it's enjoying your local park, kayaking a local river, or hiking a trail, join up with National Thrive Outside Day this fall!
Learn more and get involved: https://outdoorindustry.org/participation/