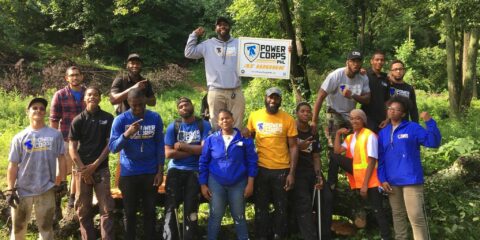 This summer, Field Notes is reposting a series of timely, topical blogs from William Penn Foundation Program Officers, beginning with this piece by Nathan Boon originally published on May 18, 2021 in the Foundation's blog.
Civilian Climate Corps: A Regional Model in the Delaware Basin
It's been a busy start to 2021 for the Biden Administration. Within weeks of entering the White House, the President established clear priorities and took quick action to move them forward, most recently with a sweeping $2 trillion infrastructure plan. Climate change and the environment are high on his list, creating new opportunities for partnership with the non-profit sector.
As long-time environmental funders focused on clean water in the Delaware River watershed, we are optimistic about the many areas of shared interest between the Foundation's philanthropic investments and the Administration's goals related to the environment. Over the next few weeks in a series of blog posts, we plan to touch on a few of those areas – including climate, workforce, land conservation, regenerative agriculture, and environmental justice and equity, to name a few – and examine where we see potential to harness the momentum of federal action and scale up the exceptional work being done by nonprofit partners in our region.
An immediate opportunity that we noted relates to President Biden's call for a Civilian Climate Corps, a nationwide effort that would create accessible training opportunities and jobs for the next generation of workers focused on climate and conservation. He earmarked $10 billion for this program in his infrastructure plan. There is no more fitting time for this effort, with Americans reeling from a global pandemic, high unemployment, and a rapidly worsening climate crisis, all compounded by a national reckoning with centuries of racial injustice.
From our unique vantage point, we believe Philadelphia and the Delaware River watershed region are primed to pilot this effort. Here are a few reasons why:
Diversity of landscapes. Our region's mix of wild, rural, and urban land offers many opportunities to implement CCC projects aligned with the priorities laid out by the Administration, which range from conserving streamside forests and restoring natural floodplains to reforesting the urban tree canopy to increasing soil health on farms.
Existing workforce programs ready to expand. This region is already hard at work implementing green workforce programs that tap a rich and racially diverse landscape of human resources, supporting new outlets for the talent and energy of both urban and rural populations. These efforts (including PowerCorpsPHL, shown in the above photo) could be built upon and expanded by the CCC.
Mature networks achieving shared conservation goals. Our region is distinct for its substantial networks of government and nongovernmental organizations collaborating on shared climate and conservation goals, providing an existing infrastructure connected to a wealth of high-impact services opportunities where CCC members could be put to work quickly.
I penned an opinion piece in the Philadelphia Inquirer stating this case more thoroughly, and I encourage you to read it for more flavor into the work here that primes our region for federal investment.